INTRODUCTION
If you have been joining my journey back to my long-lost childhood board game, you probably know now how Jigsaw Puzzle ever came about.
As I am going back to my childhood hobby these days, I wondered what companies do make jigsaw puzzles for us puzzlers?
Are there huge companies who make these board games nowadays? Or is it just small business manufacturers who used to make one?
Are they making their own designs? Or are they catering to customers for personalized or customized ones?
So with those question in mind, I obviously did some research over the internet to look for answers.
And I was surprised to see that there is a number of huge companies who make jigsaw puzzles!
But before that, let us have a brief recap. Jigsaw Puzzles are first created in Europe, so based on that fact, most of the manufacturers of our favorite board game are obviously from western countries.
But have you ever wondered if there are other countries that make Jigsaw puzzles, like for example, Asian countries?
Because as a late bloomer Puzzler, who is just taking her back on her track, I wanted to buy and play some Jigsaw puzzles created by various manufacturers to see and compare their differences. And I will make a review on that as well if I happen to find one. So, please be sure to follow my journey in this jigsaw puzzle life of mine, alright?
Going back to our topic, in my previous blog article about what are the different types of Jigsaw Puzzles are there in the market, you can see a long list that I have grouped into three: Traditional, Modern, and Latest trends Jigsaw Puzzles.
You may want to check out each type under each group I have made so that you will know what type of Jigsaw Puzzle would suit your taste as a Puzzler.
JIGSAW PUZZLE COMPANIES
So, here are the list of the companies I have gathered in the search to look for jigsaw puzzle manufacturers.
| | |
| --- | --- |
| COMPANY NAME | COUNTRY OF ORIGIN |
| Piatnik | Austria |
| Pierre Belvédère Inc. | Canada |
| Trefl | Poland |
| Clementoni | Italy |
| Cobble Hill | Canada |
| Eurographics | Canada |
| Hape | Canada |
| CubicFun | China |
| Robotime | China |
| LEGO | Denmark |
| Heye | Germany |
| Ravensburger | Germany |
| Schmidt Spiele | Germany |
| Sanrio | Japan |
| Tenyo | Japan |
| Castorland | Poland |
| D-Toys | Romania |
| House of Puzzles | Scotland |
| Educa Borras | Spain |
| Anatolian | Turkey |
| Gibsons Game | United Kingdom |
| Jumbo Games | United Kingdom |
| Wentworth Puzzles | United Kingdom |
| Puzzle People | Australia |
| Hasbro | Rhode Island |
| Fisher Price | California |
| Buffalo Games | New York |
| SunsOut | California |
| Liberty Puzzles | Colorado |
| Vermont Christmas Company | Vermont |
| Pomegranate | Oregon |
| The New York Puzzle Company | New York |
| Ceaco Inc. | Massachusetts |
| Springbok | US |
| eeboo | US |
| Puzzlelife | Korea |
| Yanoman | Japan |
| Beverly | Japan |
| Appleone | Japan |
| Epoch | Japan |
| EVA Foam Industry Co., Ltd. | Taiwan |
| Shenzhen Huayi Create Technology Co., Ltd. | China |
| Ningbo Jantai Import and Export Corp. | China |
PERSONAL CHOICE OF JIGSAW PUZZLE BRAND
Below are my personal preference in Jigsaw Puzzle brand that I will be buying in the near future. I have chosen these brand because of their popularity and amazing reviews by other puzzlers I have read across the internet. So, let me discuss it one by one.
Ravensburger
Ravensburger is the most searched Jigsaw Puzzle brand I have seen across the internet.
Personally speaking, I have not yet tried anything that this company is selling but it said that this brand is the most profitable and famous one.
With that idea, this gives me a huge feeling that maybe this company indeed touched the hearts of many puzzlers all around the world. Well, what I am saying is that, how would a company be able to sell millions of Jigsaw Puzzle if their products do not affect the taste and preference of many puzzlers, right?
So, as I was researching about this brand, I have discovered that they are making Kids and Adult puzzles, different types of games for kids and family, Strategy games, and surprisingly, 3D and Digital puzzles, too!
They are not only good with different games but they also sell it in best qualities from the packaging of the game itself up to their different designs as well. Here is an example of what I wanted to buy in this company in the future.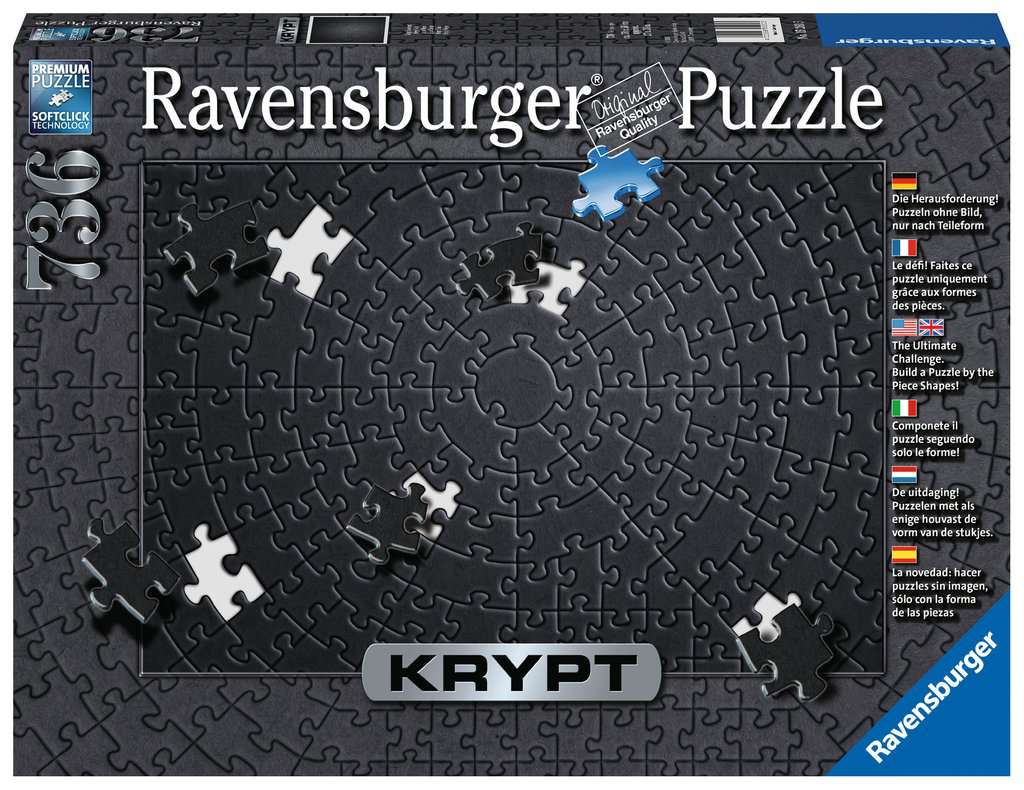 Historically wise, this company has been in the industry since 1883. That is 138 years already this 2021! Being in the industry for that long is not a joke, puzzlers. They have gotten the technique on how to "play" with all the children around the world by adapting through time.
If you wanted to check out their products, you may visit their website for more information: https://www.ravensburger.us/start/index.html
The New York Puzzle Company
Next on my list is the New York Puzzle Company. I wanted to buy with this brand for they have caught my attention with their "giving back to the environment" theme with the products they sell.
It is stated on their website that, they are a member of 1% for the environment that is giving 1% of their sales on EACH puzzle to non-profit organizations dedicated to helping the environment such as UN foundation, Pandas International, WWF Canada, Wildlife Conservation Network, Project 90 by 2030, and many more!
Having said that, we are not only able to play with our favorite jigsaw puzzle but also we are able to participate in helping the environment as well. It is like hitting two birds with one stone, right?
Imagine that while you are succeeding in finishing your game piece by piece, you are also unknowingly helping the environment one jigsaw puzzle at a time. Is it not, great?
Also, their designs are inspired by different works of Art in New Yorker magazine, classic Harry Potter books, and vintage maps from National Geographic.
So if you are an art enthusiast with a Puzzler heart, maybe this brand will suit you. As for me, I am choosing this because of my eco-friendly puzzler heart.
If you wanted to check this brand on your own, you may visit their website for more information: https://www.newyorkpuzzlecompany.com/
SunsOut
Let us now take a look at what is in store for us in SunsOut.
What captures my interest in this Jigsaw Puzzle brand is that they offer a shaped-type jigsaw puzzle. A shaped-type jigsaw puzzle is like a photomosaic one where different images are all combined together to form one whole image.
A sample of that is shown below for your reference.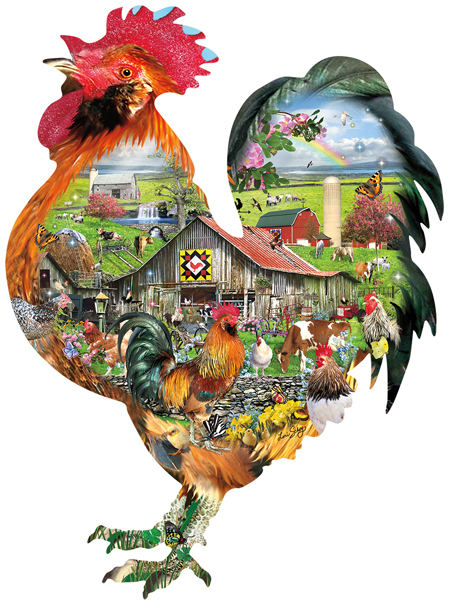 Is it not cute? It is a rooster that is formed from a rooster farm. Once I have been able to play with this one, I might have it framed once I am done so that I could display it in my room, or maybe I could put it on the wall of our dining area. What do you think?
Also, I like this brand for they sell what they call "puzzle preserver". It is a liquid glue that you can use if you wanted to stick all the jigsaw puzzle pieces forever for display.
In addition, they are also selling what they call "puzzle roll-ups". This is a jigsaw puzzle mat that you can use so that if you are already tired of playing and you are not yet done, you can just roll it all up and return to where you have stopped the next day or so. In short, this will keep your place clean and clutter-free.
If you wanted to see this brand for yourself, kindly check this site: https://www.sunsout.com/
Tenyo
Tenyo is a Japanese brand that sells Jigsaw Puzzles as well. Actually, this brand originally sells magic cards for the owner of this company is the son of a famous magician in Japan.
My interest has captured by this Asian brand because they are selling jigsaw puzzles of Disney characters. It somehow gives me a feeling of a happy child who has been one of the characters of Disney films if I were to play their jigsaw puzzle.
Maybe that is why the owner of this company goes to sell jigsaw puzzles with that design for it also gives a sense of "magic" to its customers, right?
What is surprising to know about this Japanese brand is that they are a Guinness Book of World Record holder for selling the World's smallest jigsaw puzzle in the year 2005.
Maybe if I have the patience to pick up each pieces of that smallest jigsaw puzzle, I would make a review on that as well.
Below is the design I wanted to play on in the future. I found it in amazon though, because as I was searching for their site to look for their products, it is unfortunately in Japanese text and cannot be translated in English by Google translate.
Yanoman
Another Japanese company that has captured my interest is Yanoman.
According to what I have researched online, this brand is comparable to Ravensburger in terms of quality. If that would be the case, I wanted to experience it for myself too.
I wanted to know if their materials and image finish are really comparable or maybe one of them is more exceptional than that of the other one. I wanted to see it for myself.
Also, just like Tenyo, this company is a Guinness Book of World Records holder in the year 1986 for having the most pieces of jigsaw puzzles to sell on that time. It is around 61,752 pieces. That is quite a lot to assemble!
You may want to check their website to see if you have something that you wanted to buy from them: https://www.yanoman.co.jp/products/
If you are a fan of anime, I am sure you know some anime characters in their jigsaw puzzles they are selling. But the price indicated on their website is in Yen. You just have to convert it into your country's currency so that you will know how much you should pay for the item that you want.
As for me, below is the design that I wanted to play on with. It is cute isn't? I really like cute stuff like that!
CONCLUSION
To conclude, there is a number of companies that sell jigsaw puzzles around the world. Obviously, most of them are from the Western side of the globe for it is there where it was first created. But as time goes by, Asian countries also joined the club of Jigsaw Puzzle making and creating their own reputation and images for their Puzzler customers in their own country and for abroad.
BOTTOM LINE
The Jigsaw Puzzle craze is not a thing in the past. It is a game that stands through time. We can say that it is a "mute witness" of humans' history of board game development.
How about you, my dear Puzzler? Do you agree with that?
Have you ever played any jigsaw puzzles with the brands I have listed above? If so, how was your experience?
Feel free to share your thoughts in the comments below! I am looking forward to your reviews so that I will know what to look for if I happen to buy one.
Thank you for reading!